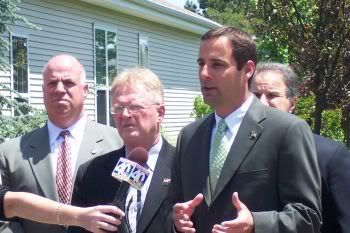 Several Atlantic County elected officials today voiced their support for a plan touted by Assemblymen John Amodeo and Vince Polistina which would fully restore state aid to municipalities.
"It is time to bring fiscal sanity to state government and that means putting taxpayers first," said Amodeo. "The governor's proposed budget treats taxpayers as an afterthought by slashing municipal aid and the Homestead Rebate program. We have identified $1.32 billion in cuts to wasteful spending in the budget with our plan and are dedicating the first $575 million of the savings we found to property tax relief programs."
"For years, state government has been throwing money down a rat hole. We need to stop playing politics with taxpayers? money," said Polistina. "Local governments run more efficiently than the state. Municipal aid should have never been on the governor's chopping block. Our plan proves it is possible to balance a budget without asking taxpayers to pay more."
Amodeo and Polistina pointed out that Atlantic County stands to lose $4.2 million in state aid under the governor's budget proposal.
?As we have seen from a number of audits, there is a lot of wasteful spending in many state programs,? said Polistina. ?Under the governor?s budget, Atlantic County taxpayers are being punished for other people?s bad decisions. Our plan, which took ideas from both sides of the aisle, re-orders the state?s priorities in favor of property taxpayers.?
"Municipal aid keeps property taxes in check," said Tom Ballistreri, Mayor of Folsom. "It is unfair to expect seniors and working families to pay more in property taxes because the state has been making poor budget decision for years."
"Legislature needs to restore property tax relief, and here is the road map to do it," said Tom Bassford, Mayor of Galloway, during the press conference which took place in the Four Seasons development in Galloway. ?The decisions in Trenton affect people who live in neighborhoods like these throughout the county. These are the people who need tax relief.?
?This is a good plan for Atlantic County taxpayers that merits bi-partisan support,? said Charles Pritchard, Mayor of Hamilton.
Amodeo and Polistina said they are asking each municipality in Atlantic County to pass a resolution supporting their plan to restore property tax relief.
Local officials already supporting the plan to restore municipal aid include Michael Becker Mayor of Margate; Jim Cox, Councilman of Galloway; Richard DePamphilis, Mayor of Linwood; Ron Esposito, Councilman of Folsom; Phil Guenther, Mayor of Brigantine; Jack Glasser, Mayor of Somers Point; Keith Hartman, Councilman of Galloway; Frank Sutton, Freeholder; and Joe Venezia, Mayor of Estell Manor.
(The attached photo (left to right): Tom Ballistreri, Frank Sutton, Vince Polistina, and Ron Esposito.)